The Sage Application Framework for the Enterprise X3 technology is the common development platform shared by a full set of Sage applications for mid-to-large enterprises. Among other features, this SOA/Web-native platform provides your enterprise with best-in-class collaboration capabilities (Web Services, 2nd generation workflow engine, etc.), powerful business intelligence tools, and a unified and highly collaborative interface for end-users.
More importantly, SAFE X3 offers a productive 4GL Integrated Development Environment (IDE) used for both building the application components of the system and allowing Sage ERP X3 to be personalized to unique company requirements in customer product implementations without changing source code. Your team can also use the provided IDE to develop custom applications if necessary, while keeping them safe from the standard functional updates of the system.
The Sage ERP X3 Integrated Development Environment is crucial to the ongoing evolution of the system. It fosters rapid development cycles, ensuring customers of a fast time-to-market for new Sage ERP X3 versions and a regular release schedule of new, value-added components to run their business.
Core Features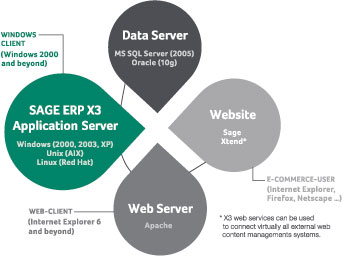 Multi-OS engine (Windows, Linux, Unix)
Multi-DB (Oracle 10g, MS SQL Server 2005)
SOA/Web-native
Multi-tier architecture scales from 10 to over 1,000 users



+27 12 347 9588

E-mail us

Related Materials

View all related materials



Additional Information