Design your business processes within Sage ERP X3
Why hold your business processes on paper, when the tool that you use to carry out the processes is your ERP system? Sage ERP X3 enables you to map your various business processes within the system and graphically represent them to your users, increasing the productivity of your team and ensuring that all actions are carried out in a uniform manner.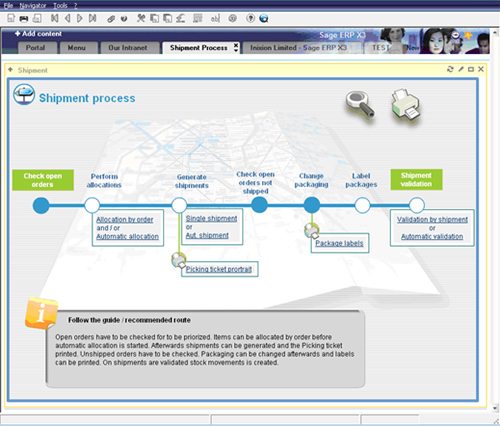 From the process flow users can click on each step to directly launch the correct Sage ERP X3 function.
Control business processes with the powerful Workflow engine.
Some information must be processed rapidly and under controlled conditions. This is why Sage ERP X3 gives you the ability to mange your company's procedures electronically and simplify all your traditional paper based and task intensive processes. Workflow functionality enables you to launch emails (either inside or outside of your organisation), follow up actions, warning of specific data events, all according to user defined rules. For example, a Finance Director can be emailed automatically by Sage ERP X3 if a credit controller raises a customer's credit limit by more than 10%.
Electronic signature control can be built into your workflow rules, to ensure that your defined business processes are followed accurately.



+27 12 347 9588

E-mail us

Related Materials

View all related materials



Additional Information