Easy set-up for multiple countries
Sage ERP X3 is configured for nine languages and national legislation requirements in Germany, the USA, Great Britain, France, Italy, Portugal, Spain, Argentina and China. This gives worldwide users direct access to a standardized system in their native language. Sage ERP X3 processes multilingual data based on the needs of the individual recipient (e.g. description of articles, text for invoices, etc.).
All country-specific parameters, including legal and market dependent requirements, are centrally mapped in the program to guarantee consistency. Sage ERP X3 makes it easier to share data and processes across multiple company locations and branch offices in foreign countries while taking into account specific applications and regulations.
Fast, step-by-step implementation.
Sage ERP X3 offers country-specific toolsets including standard defaults to accelerate the application process at new locations in foreign countries. A simple web browser is all an authorized user needs to start using the software. Sage ERP X3 enables your company to implement a fully functional management system at new branch offices or production sites without investing in high-cost IT infrastructure.
The modular program structure allows you to organize your international presence one step at a time and indi-vidually adapt it to regional and/or functional priorities.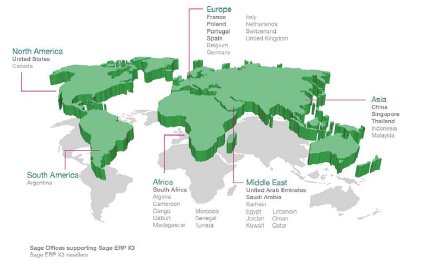 +27 12 347 9588

E-mail us

Related Materials

View all related materials