It's not enough to simply have the right information at your fingertips. You have to be able to accurately interpret it. Sage ERP X3 supports this requirement with convenient tools designed to optimally evaluate, compile and present all your data. Take advantage of the individual design and evaluation options to consolidate up to date information in your enterprise - and make faster, better informed decisions on all levels.
Sage ERP X3 provides a number of standard functions to assist your business to analyse its data:
Full integration with Crystal Reports
Statistics Engine builds real time data from anywhere in the system
Requester Reporting Engine enables questions to be answered quickly in the form of standard grid reporting or graphical representation
SQL Command Enquiry function allows you to build technically complex queries on the database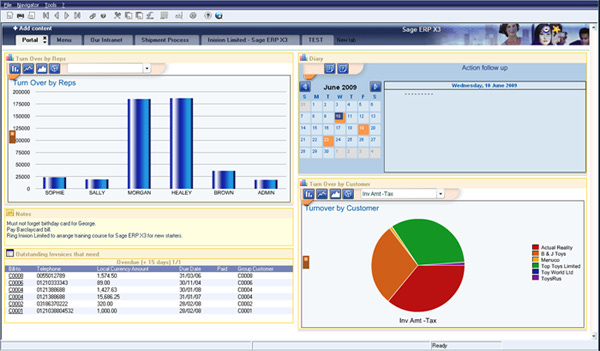 Drag-and-Drop Business Intellegence
Sage ERP X3 also integrates a powerful drag-and-drop business intelligence tool (optional), adding flexibility to your analysis. Powered by Business Objects technology, it provides end users with insight through self-serve information access, data exploration and interactivity. Users can ask spontaneous and interactive business questions of your company's data.
The standard Sage ERP X3 business intelligence universe offers a comprehensive set of business analysis dimensions that can be easily adapted and/or enriched to fit your specific needs.
Sage ERP X3 provides your staff with user-defined decision support portals for real-time monitoring of the relevant indicators for their activity.
In case of an unusual event or level of activity, it takes no longer than a click on the given indicator to move back by successive zoom operations to the detailed information or the original document explaining the result, and make a well-informed decision. Not only do you keep alert of the status of your business on a real-time basis, but you make faster and better decisions, focusing only on the exceptions that require all your attention
Business Intelligence summary
Fully Integrated Crystal Reports tool for all output documentation
Statistics engine for real time reporting
Requester reporting for quick answers to business questions
Integrated Business Objects ™ technology with pre-built Finance, Distribution and Manufacturing universes



+27 12 347 9588

E-mail us

Customer Success

View additional case studies



Related Links