Facilitate access to information
All users can access Sage ERP X3 functions through their web browser, in just the same way as in traditional client-server mode. So, wherever they are located, each member of your staff can log onto the company's information system. The user obtains immediate access to the information required, without delay and under secure conditions, from any computer with Internet access. For example, reps can monitor and document the business deals of their customers or issue orders from an exhibition stand. You can also open a new regional branch and hook it up to the company's existing management system without the need for any special infrastructure.
Explore new opportunities with partners
Your reactivity also depends on your ability to ensure that your privileged partners (loyal customers, suppliers, principals, etc.) can access your information system easily. Sage ERP X3 does more than just manage business transactions. It can help optimize each key business process both internally and outside the walls of a company.
With Sage ERP X3, you can provide remote access to certain functions of your information systems round the clock. You can also connect a sales solution to your ERP system online.
While Sage ERP X3 supports traditional external information flows with key business partners via electronic data interchange (EDI), its e-business approach provides additional choices for connecting the system to key business partners: Sage ERP X3's web-native architecture makes it possible to work via the Internet with customers and suppliers, ensuring time and productivity savings for both the company and its partners. By setting up a secured extranet connection with key business partners, a company can easily extend Sage ERP X3 system access to processing certain business transactions and information, making it easy for companies to conduct business and helping to ensure customer loyalty and retention.
Sage ERP X3 allows you to publish ERP objects, object lists and sub-programs through web services that will make them accessible to external applications:
Web storefront solutions that automatically generate orders in your ERP system
PDA applications
Other enterprise applications
Sage ERP X3 web services fully comply with the public Web Service Protocol and support all the standards (XML, UDDI, WSDL, SOAP, etc.) as part of the development toolset.
By making use of the Xtend E-Commerce toolset (sold separately), companies can connect with business partners in other ways. For example, Xtend E-Commerce seamlessly connects Sage ERP X3 to a web storefront without the need for programming. The Sage ERP X3 back office system automatically processes orders and other transactions based on predefined rules and conditions and interactively communicates inventory commitments, prices and credit approvals back to the web user.
A communicative architecture
Authorized users may access Sage ERP X3 functions and data in the same fashion on the customer's choice of Windows, web mode and local and extended networks, including secure http mode. A dedicated interface to portable terminals for decentralized bar code entries is also available. The user-defined Webtop allows users to monitor their key business indicators and activity as well as to access external services online or widgets, and to display RSS feeds. The serviceoriented architecture of Sage ERP X3 also allows the publication of web services for E-Commerce solutions, collaborative applications with partners and staff and/or data exchange with other software packages.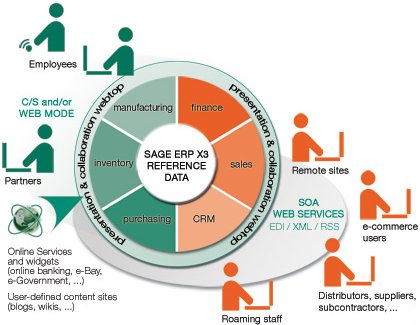 +27 12 347 9588

E-mail us

Related Materials

View all related materials