Recognizing the breadth of agricultural barriers from farming to forestry, these companies have varying needs in dealing with complexities such as compartmental ratios, traceability, cut conversions and deforestation, Accpac software offers a choice of solutions ranging from linked compartment cost allocation attachments to full-featured, integrated production solutions covering process plants, fruit and forestry, saw mills and new energy business.
The key features that drive the success of an ERP implementation in this environment include:
Powerful compartment cost calculations to ensure accurate costing, forecasting and reporting per machine, per farm, per contractor as needed.
Fully-integrated deforestation tools that handle identification, scheduling and radio frequency bar coding that deliver process efficiency.
Comparison of inter compartmental ratios and performance delivered via Business Intelligence reporting anywhere, anytime with drill down analysis.
Powerful conversion factors allowing orders to be entered in lengths or dimensions and converting to cubed metres for stock allocation.
For sawmills, useful log cut calculation tables which allow sales orders to acquire the necessary information directly from inventory further eliminating unnecessary procedures and streamlining processes.
Management, reporting and comparison of farmer and contractor production and performance levels.
Warehouse management is entirely integrated in the suite and ensures proper goods received allowing complex packing procedures on shipment and reporting that will maximize available space and inventory turnaround.
Integration to on site capital equipment such as sprinklers and graders to deliver true cost of farming
Management of formulas and recipes, potency, by-products, multiple packaging units per product, shelf-life, lot control and traceability, specific gravity, weight calculations ... and much more!
Design your business processes within Sage ERP X3
Why hold your business processes on paper, when the tool that you use to carry out the processes is your ERP system? Sage ERP X3 enables you to map your various business processes within the system and graphically represent them to your users, increasing the productivity of your team and ensuring that all actions are carried out in a uniform manner.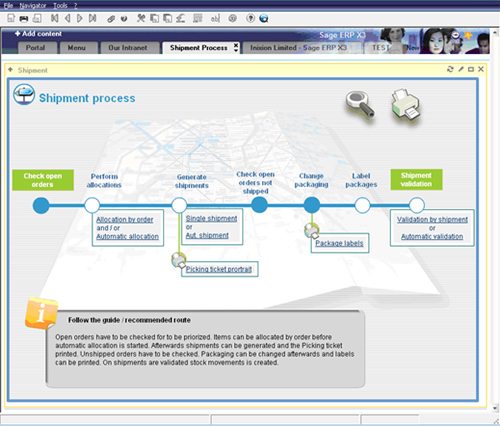 From the process flow users can click on each step to directly launch the correct Sage ERP X3 function.
Control business processes with the powerful Workflow engine.
Some information must be processed rapidly and under controlled conditions. This is why Sage ERP X3 gives you the ability to mange your company's procedures electronically and simplify all your traditional paper based and task intensive processes. Workflow functionality enables you to launch emails (either inside or outside of your organisation), follow up actions, warning of specific data events, all according to user defined rules. For example, a Finance Director can be emailed automatically by Sage ERP X3 if a credit controller raises a customer's credit limit by more than 10%.
Electronic signature control can be built into your workflow rules, to ensure that your defined business processes are followed accurately.



+27 12 347 9588

E-mail us

Customer Success

View more Case Studies



Related Links