Boosting performance through enhanced integration
How much time does your staff spend re-entering the same information in different software applications? Not only is it a waste of time, but it also makes your business difficult to manage and to analyze as data resulting from various applications may often look different and inconsistent. Is the quote that was entered for 'Generic Industries' actually linked to the 'Generic Inc.' account which is known as a a risky customer or are they two different companies?
But even more important is how that information flows across the multiple functions of your enterprise. Being able to seamlessly track a customer's order in real time from its entry into the system until its delivery - and be automatically alerted in case of a problem - is one of the numerous benefits of an integrated management system your company could take advantage of to reduce time to market and increase business performance.
What we do
We designed Sage ERP X3 to integrate all your information and business processes within one single software system. By maintaining only one database, it simplifies the way you manage your business, in the areas of finance, sales, customer relationship management, purchasing, inventory management and manufacturing! Once entered into the system, the information propagates in real time to all parts of the business that need it: an issued order has an impact on stock levels, production, accounting, etc. Plus, the embedded Workflow functions permit your company to automate the flow of information within and outside of your business based on company-specific work practices and procedures for handling important and exceptional events.
Your benefits - Increase productivity
Sage ERP X3 integrates all your management processes into a single, coherent information system. Information is distributed real time throughout your company wherever it is needed. This means no need for re-entry, no time lost, fewer errors and reliable and coherent data. It gives your company important productivity gains, as well as an improved decision-making capacity and increased reactivity to your markets.
Your benefits - Reduce the cost of owning and operating your management system
Integration also means that all users share a common reference system and a common application interface. Not only does the overall learning of your IT system get faster, but users also can more easily back up each other or switch roles without the need for new training.
Sage ERP X3 provides your company with all the functionality you need to run your business over time with a limited IT staff and technological investment. It The system evolves smoothly as your company grows or changes its organisation, remaining consistent and without leaving parts of your business behind. It is also easy to administrate and maintain from a single central point. Plus, without multiple applications, you won't need to manage as many vendors and resellers as you have different applications!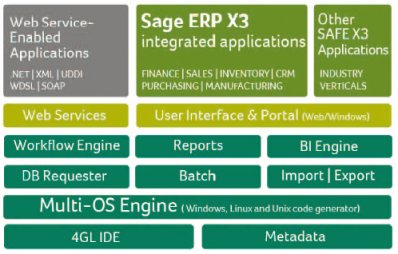 +27 12 347 9588

E-mail us

Related Materials

View all related materials



Additional Information